With the weather forecast looking promising, we ought to make the most of the upcoming August bank holiday weekend! This year, bank holiday Monday falls on 28 August, so there is plenty of time to plan an unforgettable weekend – and where better to spend it than in the amazing New Forest? We have woodlands to explore, stunning views to admire and even a secret coast to enjoy! Check out our top ways to spend August bank holiday below…
Get outdoors on two wheels
Cycling is exhilarating way to discover the great outdoors!  Not only is it tonnes of fun, it also gets the heart rate going and increases your blood flow, a great combination of enjoying yourself and being healthy at the same time!  So why not plan a bike ride in the New Forest this August bank holiday.
Image - The Woods Cyclery and New Forest Cycling
Although the weather may have been a tad wet throughout July, the silver lining is that the forest is now looking lush and green. There are blackberries everywhere, the brightness of the vibrant heather gives the forest a stunning splash of colour, and the weather is looking up for the bank holiday! Explore the sights by bike on our 100+ miles of perfect trails winding through woodlands and over heathland, spotting the famous New Forest ponies and cows along the way (just remember to pass wide and slow!).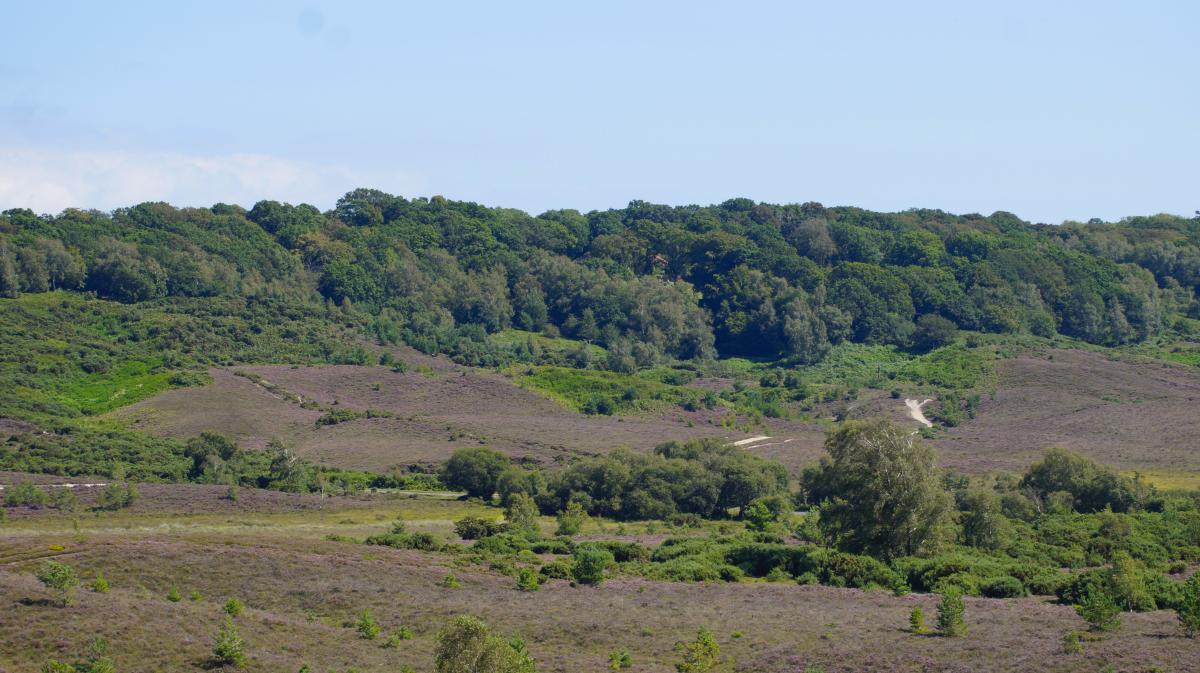 If you decide to kickstart your bank holiday weekend with a two wheeled adventure, and don't want the hassle of bringing your bikes with you, we are home to lots of incredible bike hire shops and services.
The Woods Cyclery in Lyndhurst or New Forest Cycling in Burley, are both ideally located in these stunning villages. Burley is a quaint village famous for its witches and Lyndhurst is a bustling village full of cafes and pubs, including Woods Bikes and Brews Coffee shop, which is within The Woods Cyclery, offering the best locally sourced coffee from friends at 'Bad Hand Coffee' in Bournemouth. Both shops offer a great selection of bikes to hire, including a fleet of e-bikes that will ease the way and make up hills feel like downhills, plus they both have a number of great trail options directly from both spots.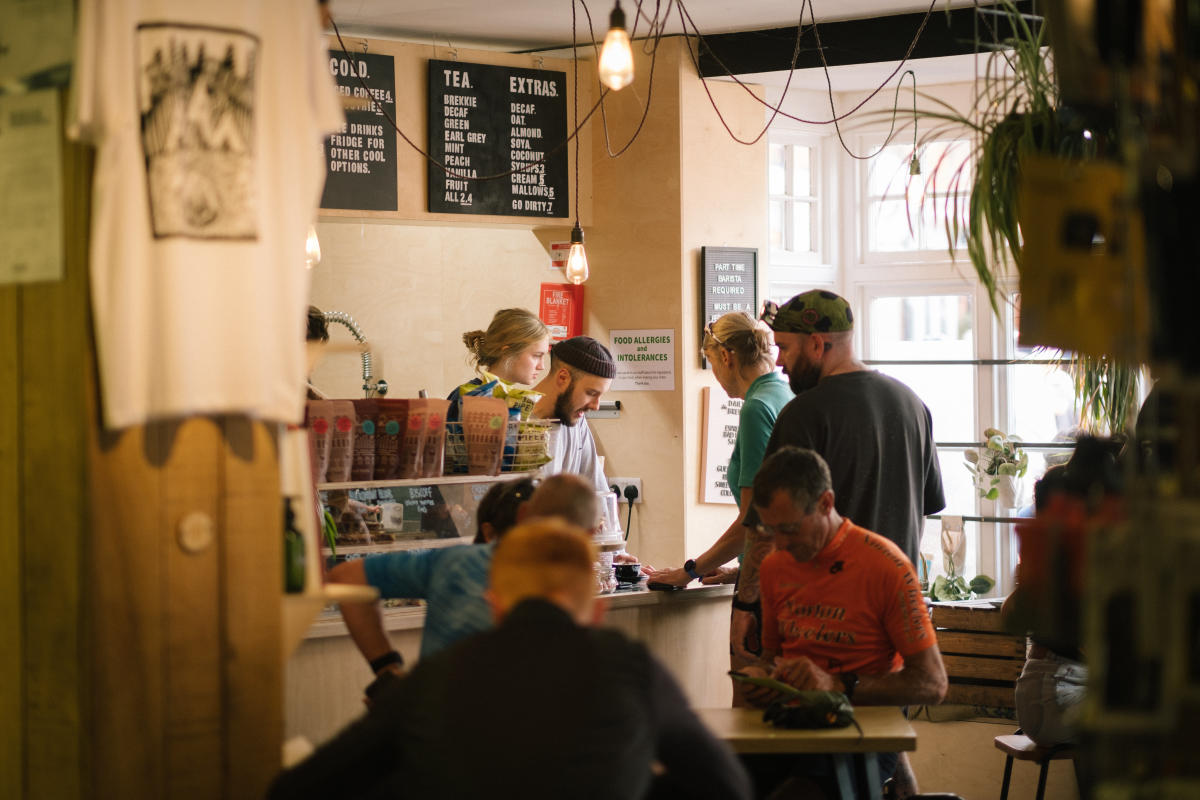 Image - Woods Bikes and Brews Coffee
Cyclexperience is a great cycle hire centre in Brockenhurst which will be open as usual and ready to cater to all ages and abilities… even with trailers for your favourite pooch! Head out on a ride from their top location to take family friendly trails and be sure to refuel with some delicious pub grub along the way.
Spin around the New Forest on Jaunt-e Bikes' cool retro e-bikes and then swap your wheels for water and hop into a kayak for an hour enjoying the New Forest coastline afloat. The perfect adventure for older families, couples and friends!
Image - Jaunt-e Bikes
Have a whale of a time on our waters
Treat yourself to a luxury day out in the sun across the beautiful Solent. Escape Yachting offers luxury yacht sailing from Lymington, with their popular Sail with Lunch or Dinner packages every day over the August bank holiday. Enjoy a glass of premium English sparkling wine as you sail, with a freshly prepared two course meal served at anchor off the Isle of Wight, when there is also the opportunity to swim!
For something a little more adventurous, head to Calshot Activities Centre, where you'll find beautiful beaches, views of the Isle of Wight and instant access to inviting waters. Give winging, paddlesports or windsurfing a go! And make sure you stop for a bite to eat at the café and explore Calshot Castle for a glimpse of Hampshire's history.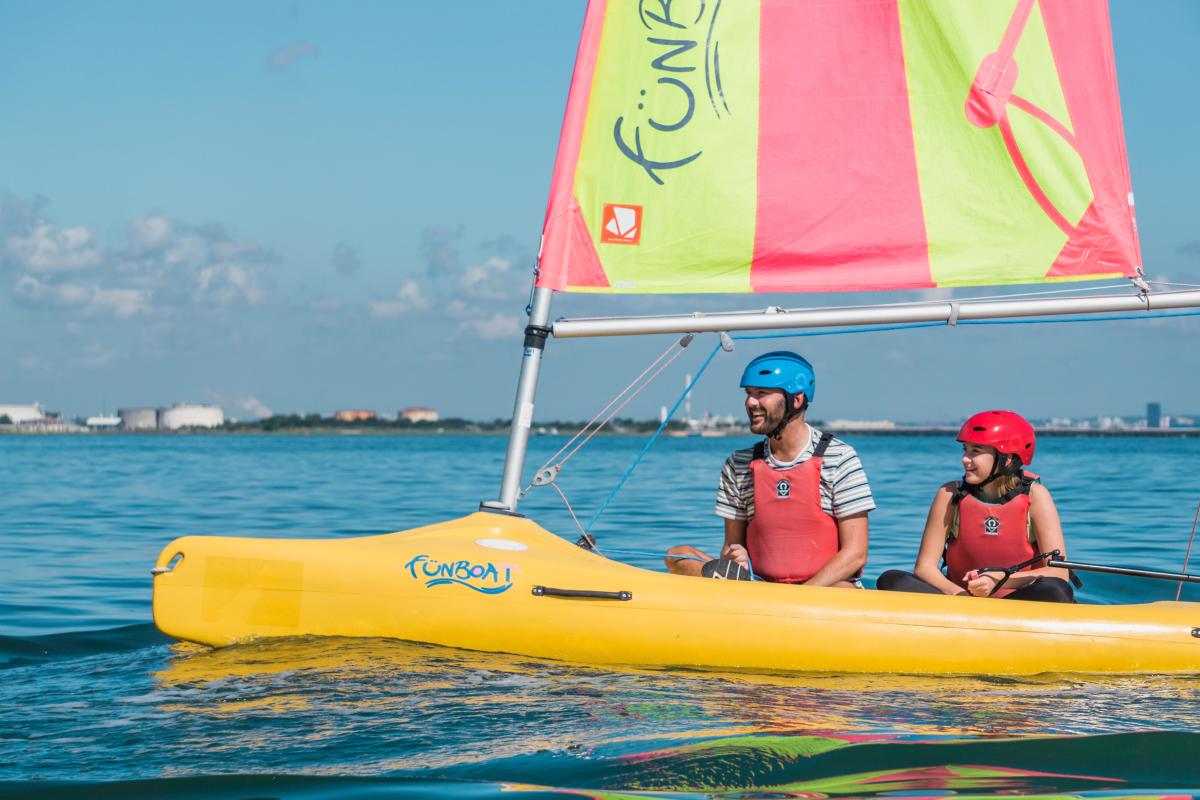 Image- Calshot Activity Centre
Nearby Lepe Country Park are hosting their free clifftop Summer Fete on 26 August from 10am – 4pm! Jam-packed with live music and delicious food, plus games and activities run by Lepe's rangers. Round up your family and four-legged friends for a fun-filled bank holiday Saturday.
Seek shade within enchanted woodlands
Book the ultimate fun and adventurous activities with Insight Activities, an award-winning outdoor activities venue that offers and range of exciting things to do in a beautiful private woodland setting. Choose from Woodland Archery - where you'll learn how to use a bow and arrow like a pro, Axe Throwing - giving you the chance to unleash your inner warrior and Rifle Crossbows - to experience a real thrill! If you can't decide on just one activity, try their Medieval Trio, which includes all three in one back-to-back session!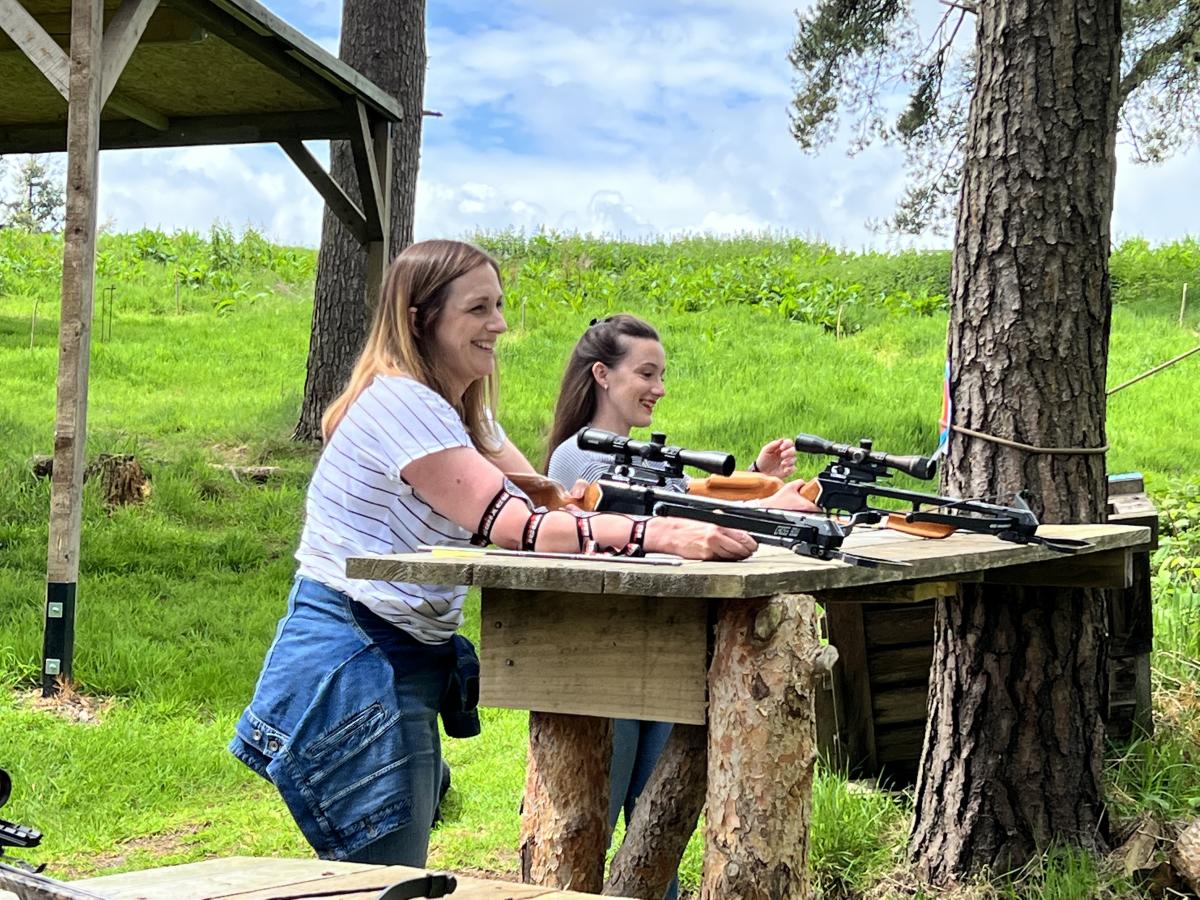 Image - Insight Activities
For a day out that's a little more relaxed and perfect for little ones too, bank holiday weekend is your last chance to embark of Furzey Garden's magical Artist's Fairy Door Trail! Wander through beautiful blooming gardens to find the magical four-foot doors, be sure to seek out mermaids, dinosaurs, fairies, and space animals! The doors were made by people with learning disabilities and painted by local artists – they truly are wonderful.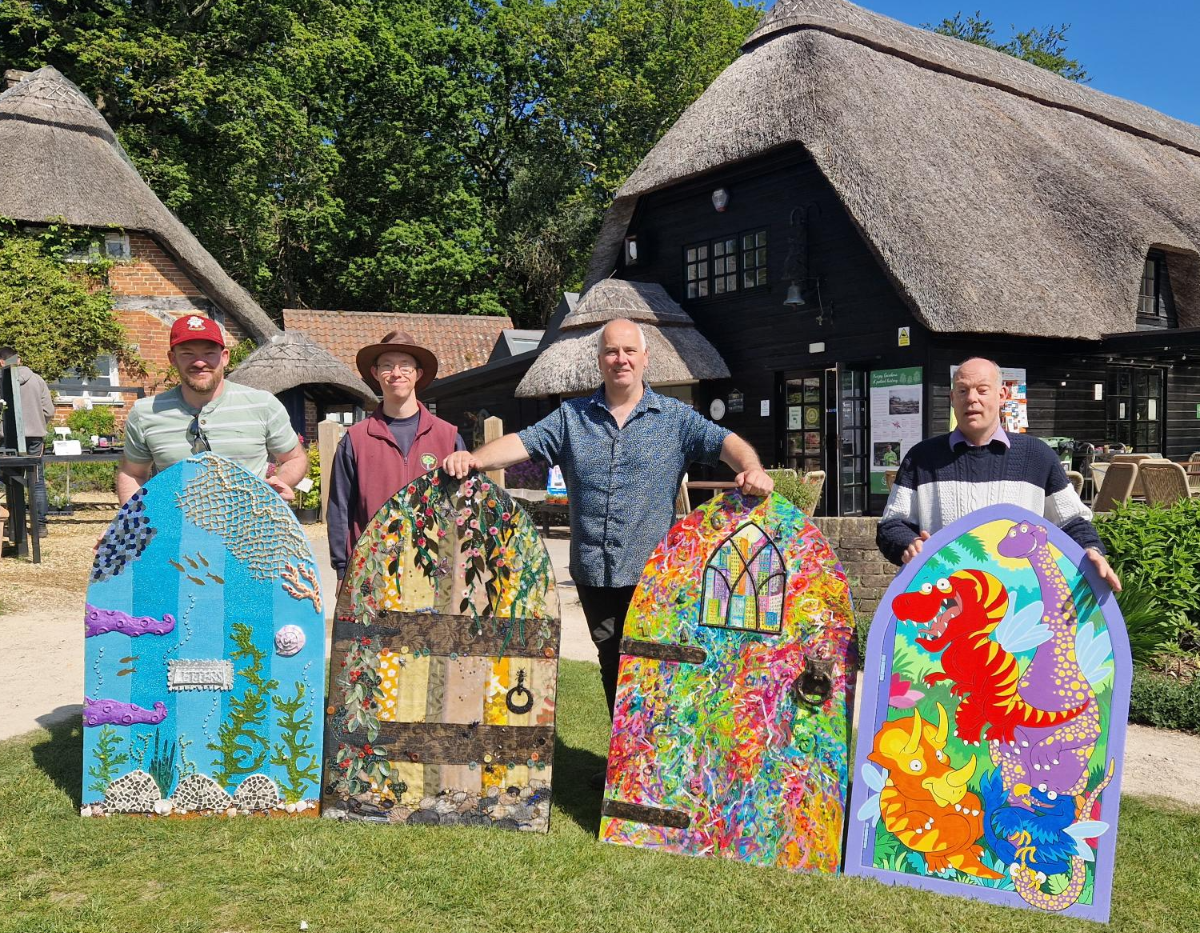 Image - Furzey Gardens
Get involved with great events
There are plenty of brilliant events taking place across the whole bank holiday weekend, including autojumbles, woodland activity days and special boat trips, there is something for everyone to love.
Explore the beautiful sunflowers, ride on the tractor and trailer and try out the maize maze at Summer Time at Sunnyfields Farm! Or book a break at Sandy Balls Holiday Village and join in with their epic Custard Pie Fight.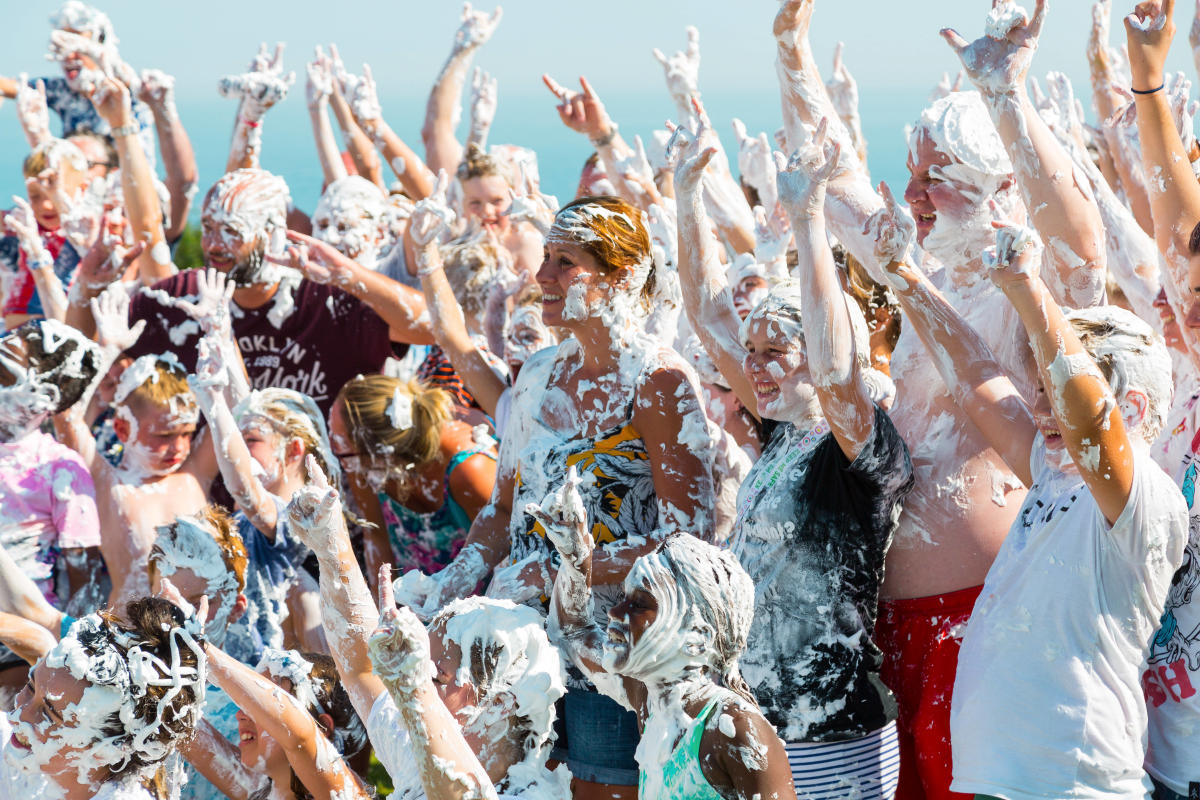 Image - Sandy Balls Holiday Village
As well as all of the incredible days out listed above, there are so many more other exhilarating and wonderful experiences to be had in the New Forest over the bank holiday weekend at our fantastic local attractions and fabulous activity centres! Plus, we're real foodies here in the New Forest, so don't miss out on delicious food at pubs, cafes and restaurants. And make the most of the weekend and book a stay – there is still lots of availability at hotels, holiday parks, campsites, self catering cottages, B&Bs and glamping sites.
Check out more on our website, get planning and enjoy an August bank holiday weekend you'll never forget! 
Remember to tag us in your bank holiday posts from the New Forest on socials at @thenewforestuk